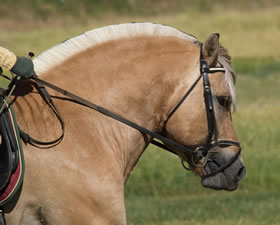 FROM THE REGISTRAR'S OFFICE
Registrations and Transfers: Please refer to our
Rules of Registration
and
Services and Fees
page for NFHR rules and current fees before you send in your paperwork. Get your current years foal registrations in before they're 6 months old, to save on cost! If you have any questions, please contact the Registrar at 303.684.6466 or
registrar@nfhr.com
CHANGE IN RULES OF REGISTRATION EFFECTIVE 28 FEB 2020
By recommendation from the Breeders Committee, and a unanimous approval vote by the Board of Directors, there is a change to the Rules of Registration, ARTICLE VI - NORWEGIAN FJORD HORSE NAMES. This is not a new rule but, rather a clarification that codifies our existing Registration policy. This rule change is as follows:

ARTICLE VI - NORWEGIAN FJORD HORSE NAMES

A. In keeping with the Norwegian ancestry of the Fjord Horse, the Norwegian Fjord Horse Registry requests Norwegian names are used.

B. Horses presented for original registration in the NFHR will not be allowed to use an existing name. A roman numeral will be added to duplicate names if not submitted with an identifying farm name, prefix or suffix.

C. Farm names, prefixes or suffixes may not be duplicated without permission from the original user. The first individual to use a specific farm name, prefix or suffix has sole use of that designation unless they release use of it to another.

D. Imported horses presented for NFHR registration that have duplicate names, farm names, prefixes or suffixes within the NFHR shall be subject to the following:
a. The foreign registration number will become part of the horse's name.
b. Duplicate prefixes, farm names or suffixes will be removed if already in use within the NFHR.

E. Names already listed in any Registry will not be allowed to change whether the Registry is in the U. S., Canada or other foreign countries with the exception of ARTICLE VI, B or D above.

F. The NFHR Registrar has final approval of all names, farm names, prefixes and suffixes.

2020 NFHR MEMBERSHIP MEETING
The 2020 annual membership meeting was held January 25, 2020 at 6 pm mountain time.

If you are a member of the NFHR FaceBook Group, you can watch the live stream on our group page.

NEW EVALUATION HANDBOOK NOW AVAILABLE
The improved Evaluation Program documents are now available. Sections 1-3 and 5-6 have been completed. Section 4 (performance) is still under review and will be posted in the coming months. The largest change is the linear scoring system which will allow a better understanding of each individual horse. The next step is for NFHR to hold or encourage clinics around the country to educate Fjord owners about the value of the new system. As soon as possible we will begin to hold official Evaluations again.
[
click here
] to visit the Evaluation Program page to find these .pdf downloads
Gift Memberships from SELLERS to BUYERS

As a NFHR member, you can purchase, for your non-NFHR member buyers, a NFHR Single Membership for only $40. Download the form below, complete it and submit it with your transfer paperwork and transfer fees. (for rule details, see the form)

Click here to download GIFT Membership form
We had no new candidates step up for our 2020 Board of Directors election. All three board members whose terms are up have agreed to another term, so there will not be an election this year. The NFHR would like to thank returning members Curtis Pierce, Jessica Reuterskiold and Kay Schwink for their dedication to the NFHR.

Click here for the contact information

The NFHR would like to encourage anyone interested in fjord related events and activities to please check out the regional fjord clubs around the country. Visit our Regional Clubs page to see which club might be closest to you!

[

click here

] for our Regional Clubs links
Support the Fjord Herald
Are you an avid reader of the Fjord Herald? Would you like to help keep it the high quality, informative magazine it is? All donations made using the link below will go directly to the Herald funding.

Read more ...

Advertisement ~ click for link ~